A matter of style, with Rina Sviatskaia
We spoke to our friend, stylist Rina Sviatskaia, about the definition of personal style and the power of self-expression, and asked her to share a few of her top tips for making the most of your wardrobe.
Rina wears the Drive Blazer and Moi Pant in Black Rayon
Tell us a little bit about yourself.
My career trajectory started with my first job at Condé Nast. Mesmerised by the publishing world, I fell in love with high-quality publications, yet fashion is something that has always been close to my heart. Clothes played an integral part in my upbringing — I grew up in a household that allowed me to experiment with my sense of style from early on. My mum used to be a custom fashion designer and designed unique garments for me since I was a little. And once I got older, I often 'commissioned' her to create clothes based on my designs.
In my teens, my parents opened a retail store, and my obsession with clothes took on a new level. I would go to the store almost every weekend under the pretence of lending a helping hand and try on everything that would even remotely fit me. However, it didn't cross my mind until I was in my late twenties that apart from playing dress-ups, I could actually style. It happened when a friend asked me to help with styling a test shoot as I was good with clothes and knew quite a few local designers to borrow samples from. I winged it, and it felt like the most natural thing in the world. My experience working in publishing came in handy as well — I worked on shoots quite a lot, so I knew what the styling job entails and how everything on set operates.
How would you describe your style?
I struggle with fitting a concept such as personal style into a few adjectives. I see it more as a tool for self-expression and a mental projection of our inner landscapes. Our perception shifts as we grow and go through different phases; the same applies to what we choose to do with our hair. This idea is explored well in The Queen's Gambit, where you can see how the choice of clothing, hair and makeup shifts from one episode to another based on Beth's transformation. Perhaps, if I had to describe my aesthetic, I would say that it is minimalistic and somewhat refined. It's also quite creative and playful — I am a bit of a paradox, I know. I like pushing boundaries and experimenting when it comes to style. I see my fashion choices from five or ten years ago that make me cringe as something that shows how I am constantly growing and evolving.
I also wear A LOT of black. I love colour, but black just always looks so damn good.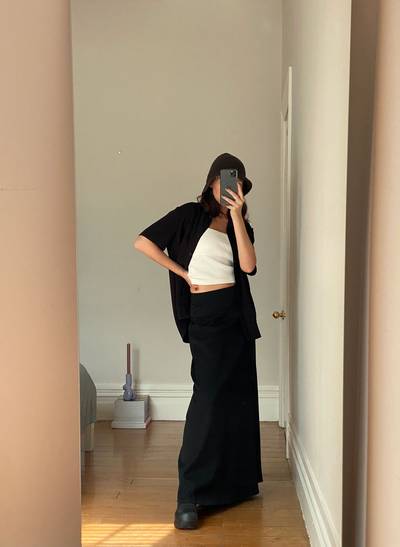 Which wardrobe essentials are your go-to foundation pieces and why?
I don't exactly subscribe to the idea of wardrobe essentials (the same goes for following trends) — I am all up for choosing what feels the most authentic to each individual. I don't believe we all need to have a little black dress or a white t-shirt in our wardrobes because where is the originality in that.
I am really into classic tailoring and have always been — I have just changed and adapted the way I wear and style it over the years. I love suiting, and you could barely ever spot me without a blazer (only on hot summer days) — blazers to me are what sweatpants are to others. I wear blazers and jackets daily — I style them with trousers or nice jeans to dress up for meetings and my favourite TEKLA pyjama shorts on lazy days. I am the kind of person who would go for a walk around the block wearing a blazer, shorts and loafers because that is my idea of comfort. I wore blazers throughout the entire lockdown last year, often with leggings and shorts, of course, but still. I also love shirts, especially boyfriend shirts lately — there are so many ways to style them, and they always make an outfit look sharp. One of my most recent obsessions is Mina's Beach Shirt in yellow stripe. Lastly, I will never stop collecting beautiful cashmere and wool jumpers — if treated well, they last forever.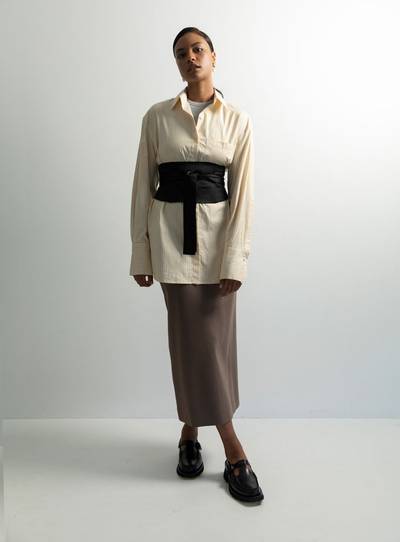 IMAGE CREDIT
Our Beach Shirt Yellow Stripe styled by Rina
Model — Michelle Chand from N Management
Photography — Guy Coombes
Makeup & Hair — Sophy Phillips
For those who don't feel confident about accessorising, where would you suggest they start? What are some of your favourite ways to elevate a look with accessories?
When it comes to myself, I often save money on accessories to spend more on clothes (shoes and bags don't count, I see them more as necessities). In reality, there are plenty of outfits you could create that can function perfectly well without any jewellery, belts, hats, and so forth — accessories to me are all about the message you want to send. I believe that clothing and accessories could be many things: art, metaphors, messages and mental projections — but one thing stays the same, they always tell a story. In my world, accessories are like adjectives; they add some colour to the story but are not always necessary for the said story to exist.
If someone is new to accessories, I suggest starting with picking up one and figuring out multiple ways to style it first, getting to really play with it for a while before moving on to the next piece. Taking one step at a time is better than feeling overwhelmed — I reckon styling ourselves is such a fun job, and we should keep it that way. Take, for example, something such as Jasmin Sparrow's Mother of Pearl Braided Belt — it can be worn as a necklace or belt on top of the jacket or with trousers. It will transform an outfit into something else without much effort. Apart from elevating looks with accessories, I also love downgrading outfits through them as well, such as wearing a bucket hat with dresses or suits during the day. I often get to know myself more based on what I am being drawn to wear.
What are a few simple styling tricks to elevate or change up a look and get more wear out of existing pieces?
When I realise that I don't get enough wear out of a garment that I am sure I want to keep in my wardrobe, I start dressing up with that item and build an outfit from there. I try to pair it with something I haven't before to get myself excited about the piece again, sort of a CPR for clothes and accessories that have been abandoned. Does that make any sense? Another option is upcycling and repurposing. Last year, I worked on a shoot for ISLAND where the entire team was ripping, resewing, painting over and just genuinely having fun with a bunch of old clothes. I even attempted tie-dyeing for the first time, transforming my old Georgia Alice white tee using green tea powder and shibori technique.
And in terms of elevating a look, at times, it is just all about the clothes being freshly steamed (and a good posture, for sure). I believe it is all about the feeling. I am at the point where I feel that almost every garment could be styled in a way that makes it look great if we just get creative. Another question is whether the piece aligns with who we are to stay in our wardrobe instead of finding it a new home. I always consider the longevity of the garment and how long I would be able to wear it before purchasing something, but sometimes we change (and so does our style), and it is okay to resell or gift clothing to friends as long as it doesn't end up at the landfill.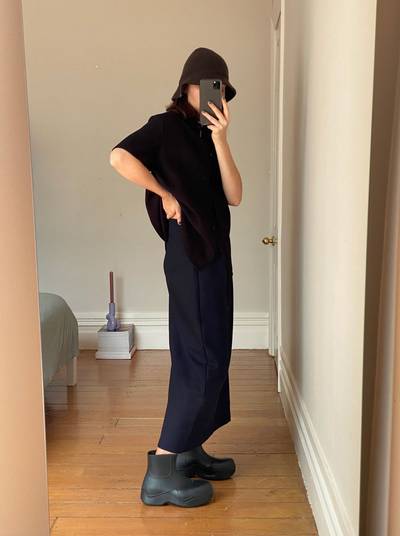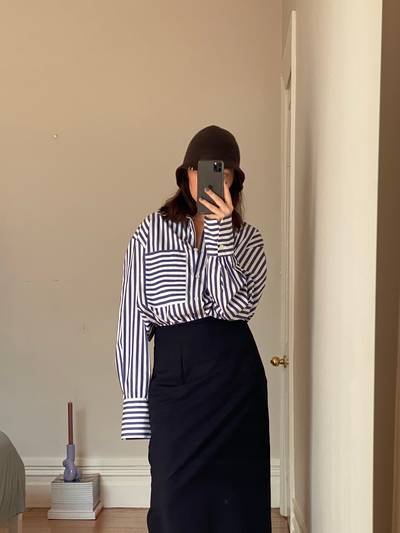 As someone who aligns with the Mina aesthetic, what is it that you love about the brand?
I admire that Mina is deeply rooted in ethos and values. I can also see that Natalie has a lot of respect for her community, makers and creatives. Mina's transparency and careful consideration, in particular, are what make me want to support it the most. We all know that in our day and age, all new products are unsustainable by definition, and so I find it heartening to see brands take responsibility for doing as much as they can to minimise waste and use pure fabrics that will biodegrade over time.
What is on your Mina wishlist?
— Wander Skirt Navy
— Day Shirt Black
— Studio Pant Black
— Muse Pant Ink [coming soon]
— Scout Blazer Black [coming soon]
Follow Rina on Instagram @itsreens