Community
Aotea on the importance of community and the principles of tikanga māori
Founded in 2017, Aotea is inspired by māori history and knowledge which informs its range of therapeutic skincare. Aotea is the māori name for Great Barrier Island, where the brand is based and grows all the native flora they use in their beautiful healing products.⁠
We spoke to Tama and Lucy of Aotea about their dedication to their local community on the island, and learned more about the active ingredients that make Aotea products so special.
Aotea is named after the island it calls home, Great Barrier. How has the landscape of the island influenced Aotea?
Aotea is a product of its environment. From its name, to the production, with a majority of the flora and fauna harvested and extracted from the Island where it is grown, and made. It's hand made in an incredibly isolated part of the island. Harvesting and production can come to a grinding halt when the weather closes in. The flora and fauna is grown in its natural habitat in its natural state.
Aotea as a product is a raw, authentic and pure reflecting of the landscape it has come from.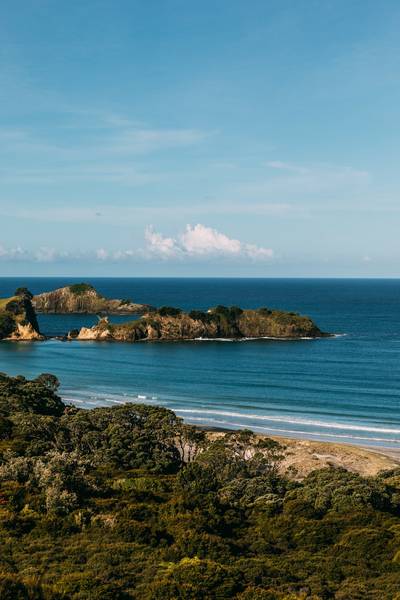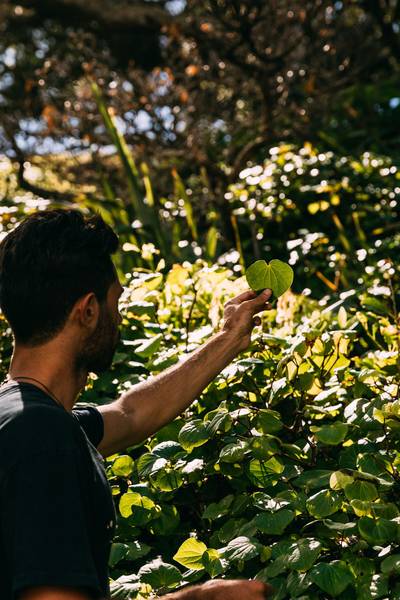 Aotea manufactures entirely on the island and in doing so supports its local community. Why was this important to you and what were some of the challenges you faced to make this happen?
How we run our business is extremely important to us. Because we deal with flora that has a deep māori history, it is important for this to be done on our papakāinga and so any 'halo effect' can be enjoyed by those that live here. So, as a consequence employing locals is important to us. It is super challenging navigating the logistical and operational aspects of running the manufacturing / growing / extraction in a remote area. Everything is more expensive, and weather can make it hard for us to land goods in Auckland on time. But the benefits by way of having connection to the land, and being able to invest in the infrastructure here far outweigh those operational challenges.
What does community mean to you?
Aotea as a company is dedicated to building opportunities for people in our community to prosper. From a sales perspective we collect like minded business we can share and build a sustainable future with. It's another platform to give and receive knowledge. We can only utilize and gain more knowledge to move forward by sharing, and supporting one another as a community in our search for a high grade, cultural, and environmentally conscious society.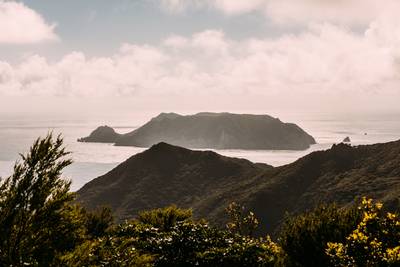 A respect for the land (papakāinga) and connection to nature are central to Aotea's ethos. How does this manifest in the way you do business?
For us, we operate our business with a māori world view in mind. This permeates not just how we run our business day-to-day, but it also informs our direction as a business. This includes things like water conservation and being as solar powered as we possibly can (both of these aspects arise out of the nature of the island, if you don't have adequate solar you have to run a generator, similarly, being on the top of a hill without access to water, we have a reticulating water system to save the rain water we collect). This also informs how we fill out our plantation of mānuka, kūmarahou and harakeke (we only take local species and have a nursery here) and also how we harvest. These are aspects to how the principles of tikanga māori manifest in our business.
Tell us about the Aotea Circular Economy.
Our product is grown, harvested, made, and packaged on Aotea by Aotea using renewable energy. When distilling our manuka oil we use every by-product of the process. We use the hydrocele in several of our skincare products. The foliage left after extraction is used to mulch the manuka plantation. We are currently developing a new product using the foliage also, so watch this space!
We employ people from our small community on Aotea to do all the making with us. There is no factory involved and we try to keep plastic to a bare minimum.
We are constantly working on many more circular aspects to our business. Being a self-funded company everything takes time, and we want to do it in the most transparent way that we can.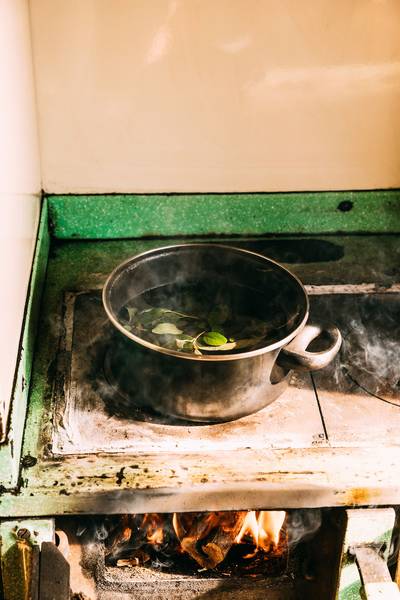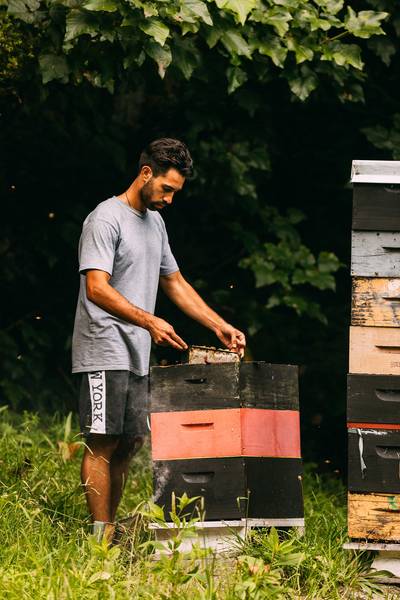 Aotea founder Tama Toki has spoken of the herbs themselves inspiring Aotea's therapeutic skincare range. Tell us a bit about what makes each of your key botanical ingredients so special.
Kawakawa is incredibly anti-inflammatory, it possesses a plant chemical called myrsiticin, and the literature speaks to how this plant agent is proven to clinically reduce inflammation markers like nitric oxide in your skin cells.
Mānuka is well known for its anti-microbial capacity. This arises out of a plant compound called a terpene. Whether this manifests into the amino acid methylglyoxal in honey (after the bees take on the nectar, this terpene presents itself in the nectar and is then processed into the amino acid, shortened as MGO), or it is directly extracted through a distillation technique into the oil, both are incredibly anti-bacterial.
And lastly, Harakeke seed oil possesses an amino acid called linoleic acid that is incredibly nourishing and enriching to dry skin.
Can you give us a bit of an overview of the process that goes into making each Aotea product?
The first part of the production process is always the extraction of the plant compounds. Whether that be the pressing of the seeds for our harakeke seed oil, the distillation of mānuka leaves, or the hot / cold infusion process we use for kawakawa and kūmarahou, we start there first.
With those extracts as our base, we go through the process of what any skincare manufacturer would, that is the blending and emulsification of the water and oils together to make the cream. The only difference is that we do very small batches, and we process by hand - even the labelling process is undertaken by hand.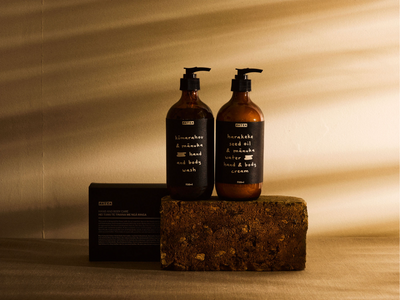 We are big fans and long time users of Aotea's kawakawa balm. What makes this particular product so unique?
Kawakawa really is a heal-all. Although primarily an anti-inflammatory, it also possesses analgesic qualities - that is, it numbs the area it is applied to. When consumed in high enough quantities it can also give slight psychoactive properties! But topically, it takes away swelling, as well as gives pain relief to that area. So that really is a great pairing to treat things from insect bites, all the way to rashes and burns. Our balm only has 3 ingredients, and the two active ingredients (the other being beeswax which binds it together) take away inflammation and reduce pain, and then the mānuka oil cleans the affected area. So it really is a heal all! And, our balm has a super high concentration of kawakawa oil (82%), so we don't skimp out on the quality / active ingredients.
What exciting projects are on the horizon for Aotea?
For us, one of the more exciting parts of our roadmap is investing into the R&D behind the native flora. We want to further the research undertaken with the flora we work with, and underscore its remedial and traditional use with clinical study. We aim to do this in-house (we have purchased something called a super critical extractor that allows us to critically extract these plant chemicals). Our goal is for what we do to benefit not only those that live on Aotea, but also to give efficacy to these traditional practices.