Breaking bread with Freya de Beer Smith of Pomona
We spoke to Freya of Pomona about what makes the perfect sandwich and the food items she always has on hand should friends come around unannounced. ⁠
Tell us a bit about your background and how you came to start Pomona.
Kia ora. Well, I originally studied Pâtisserie, thinking that was what I wanted to pursue as a career. After graduating I worked in a restaurant and a bakery for about three years, during which time I realised that being surrounded by and constantly tasting sugary food, I was completely put off it.
I have always been obsessed with cooking and have spent a lot of time studying cookbooks and teaching myself how to cook. It was when I was living in Pо̄neke and baking that I came up with the first iteration of Pomona but It was an idea that got put on pause for various reasons.
When I moved back to Tāmaki Makaurau I worked with the wonderful Yeshe Dawa of The Midnight Baker, running the café kitchen for about two years. During lockdown I had a lot more time to put thought into my idea of starting a deli. I spent many hours during this time, along with my incredible mum, hashing out all the details and everything I would need to get started. It was having the time to plan and the family support I had that allowed me to finally bring Pomona into fruition.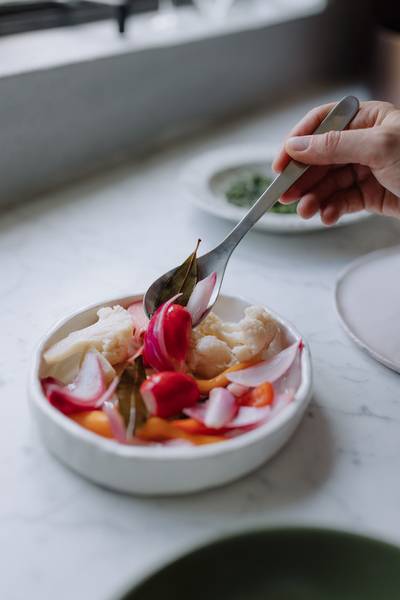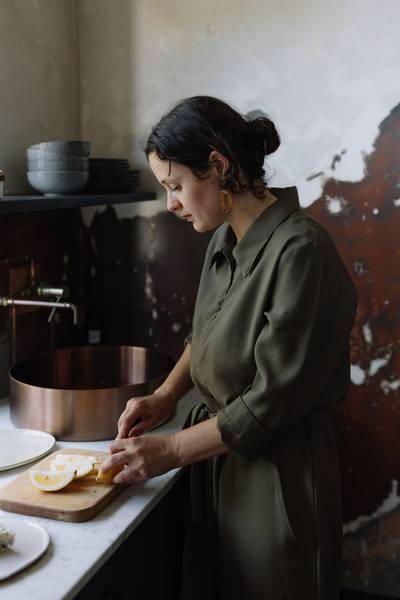 How did you come to collaborate with Maya of Florets Bakery?
I was originally planning to just have an online shop for my products. I wanted to stock a few other local makers' products such as bread, olive oil and salt. I reached out to Maya, who at the time was baking her bread in Oratia, to say that I loved her rye bread and would be interested in stocking it alongside my deli products. To me, Maya's bread is quite unique in terms of what is available bread-wise in Aotearoa and is also just incredibly delicious.
From there, we met up and started talking about ways in which we could support each other's businesses as they were both growing. Maya reached out to me a little while later to say that she was planning on starting up a bakery and would I like to be involved - stocking my deli products for people to buy along with their bread, as well as coming up with the menu.
The sandwiches at Florets are divine! What was the process behind conceptualising each filling? And what, in your opinion, makes the perfect sandwich?
Thank you. The process definitely started off with considering the different breads that Maya makes and which combination of my products would work best with each one. We wanted the sandwiches and toasts to be a way of highlighting both the bread and my products simultaneously.
I am still on the search for the perfect sandwich - I'll keep you posted. A good template for me though is: delicious bread with a good amount of savouriness in combination with creaminess, crunch, something fresh and perhaps a sweet element.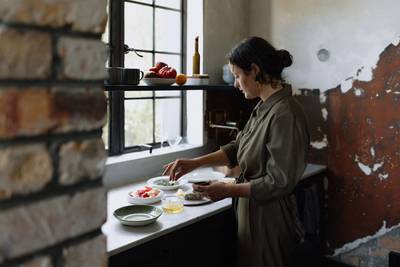 A platter or grazing table is a great way to keep guests fed with minimal time spent in the kitchen. What would you suggest we always have on hand in our fridge and pantry should we find ourselves hosts to an impromptu gathering?
I love having friends over for dinner and usually put a lot of effort into cooking a beautiful meal for them. My favourite way to share food in a very social situation though is to serve an array of delicious bits and pieces so that people can slowly eat while drinking and talking and I also don't spend the entire time in the kitchen.
Good bread is definitely a staple for me - either fresh or toasted in a pan with olive oil or butter. I also always have olives on hand which are best warmed in a pan with some good olive oil and whatever herbs and spices you have available. A variety of marinated vegetables. Cured, marinated or raw good quality seafood and meat. A few different cheeses and pickles are always a good idea. I pickle green walnuts and grapes which are both delicious with cheese.
You are hosting an intimate soiree for close family and friends. What are you serving? And how else are you ensuring a memorable night for your guests?
My favourite meal to cook for the people I love is fresh handmade pasta paired with a simple salad and delicious wine. If i'm feeling a wee bit fancy I'll start with a carpaccio of some sort. I love dim lighting so I'll likely put some candles out and put on my 'songs to potter to' or 'home' playlists which includes songs from Sarah Vaughan, Colette Magney, Irma Thomas and Betty Carter. I love a good game at the end of a dinner party - my go to's being ReFlex, Articulate and Dice.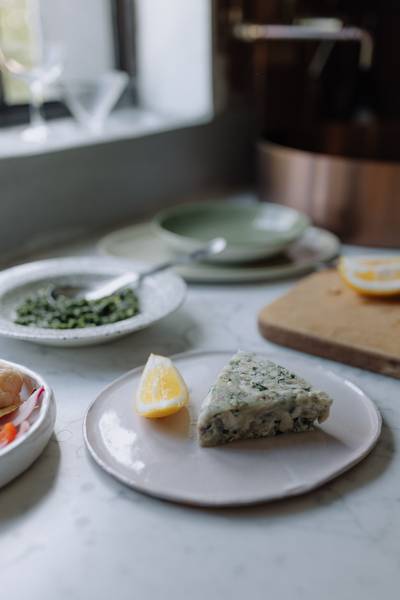 For Pomona you exclusively use organic and spray-free produce and dairy, and wild caught seafood and meat. Why is this important to you?
Even though it is quite hard to do in our current climate, I try my best to support growers, farmers and makers who are doing their best to reduce harmful impact on the environment, animals and people. The aim of Pomona is to make a range of products available where customers know that the ingredients come from sustainable sources and that they are supporting locals who care immensely about the way in which their products are made.
Who are some of your favourite local food producers? And where do you shop for the best produce?
... Evergreen Olives - producers of beautiful extra-virgin olive oil made in Kaikohe
... Hauraki Salt Co. - a course, slightly flakey salt made from seawater harvested from the Hauraki Gulf
... Hо̄hepa - cheese makers, among another things, based in Hawkes Bay
... Whenua Honey - Bay of Plenty honey producers that care for the bees, the whenua and the people
... Heirloomacy - incredibly delicious heirloom tomatoes grown in Kumeū
... Premium Game - wild game meat from Malborough

Sadly this hasn't been possible of late, but when I have time I would ideally buy produce directly from growers at markets.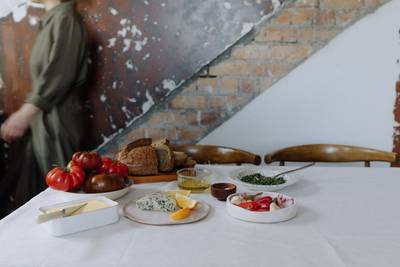 Who are some of your food heroes?
My Mum Lesley, who ignited my passion for cooking, Monique Fiso of Hiakai, Ruth Rodgers of The River Cafe, Josh Niland of St Peter's, Nonnas, and people who cook delicious food with good local ingredients. There are many, many more.
What's on the horizon for Pomona?
My deli is very much a work in progress. With a bit more trialling of products, I want to focus more on preserved wild seafood and meats such as cured and marinated products. There also a bit of planning underway to start doing some private dinners which is something I'm very excited about.
What was on the menu at Mina's Two.1 collection shoot?
… Florets wholewheat sourdough
… Fish and tarragon terrine
… Herb salsa
… Market pickles
… Butter
… Evergreen Olives olive oil with Hauraki Salt Co. Salt
… Heirloomacy tomatoes