Living a Simple Life with Eleanor Cripps
We recently visited writer, cook and surfing enthusiast Eleanor Cripps out at her beautiful, sun-filled Piha home. She shares her home with her three children Bella, Obi and Archie, and her constant companion Ziggy, a small caramel-coloured poodle.

Eleanor writes books about how to live a simple, joy-filled life, philosophies that are reflected in the way she lives, cooks and decorates her home. Her minimalist approach to living is a testament to the fact that living with less can bring more peace, happiness, and contentment.
Below she shares her thoughts on living in a small community, the beach, daily rituals and what 2023 holds for her.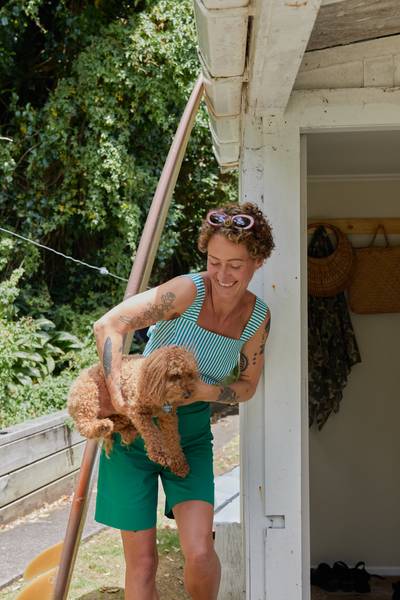 What is it like living out in Piha? What is the biggest difference in community living out in a small seaside town compared to Titirangi and Mt Eden?
When my sweet little place came up for sale last year, being only a stone's throw away from the beach, I knew I had to make it work somehow! Built in the 1930s, the tiny beach house still had its original retro kitchen and bathroom. I've since given it a lick of fresh (bright!) paint and added a few touches to make it my own.
The kids and I love Piha. We have been living here for 3.5 years, and I couldn't imagine a better place to raise them. The school bus is only a few minutes from my house, and there is a hidden swimming hole up the road. Everything, including close friends' houses, is within walking distance, and I love the feeling of safety and simplicity living in a small community brings. It's like being on holiday, all of the time! Sometimes, I forget that we're still in Auckland!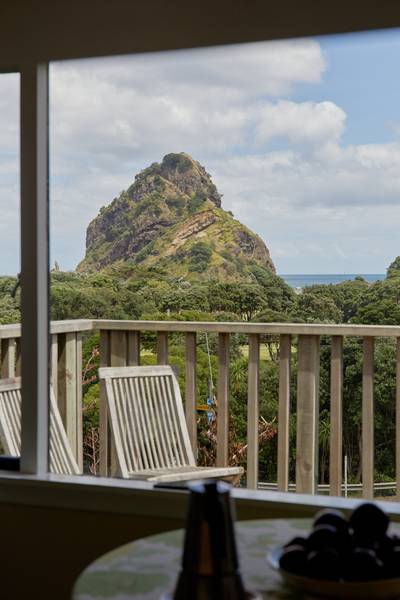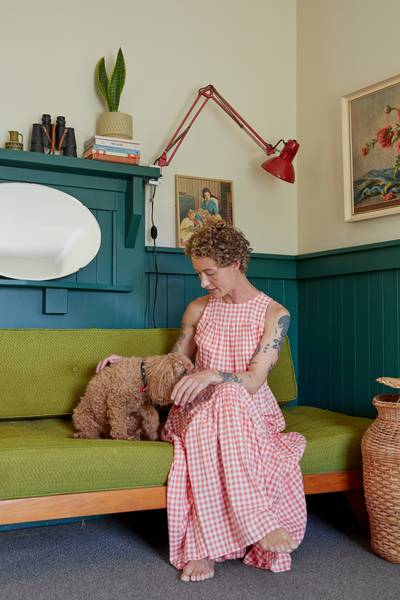 The last few years have seen a shift in your focus away from food and towards more of a lifestyle brand, tell us what has inspired this??
Since becoming vegetarian a few years ago, I've had to rediscover and redefine what food and cooking means to me. The truth is, after being a food writer for more than 10 years, I felt as though I didn't have any creativity left in the tank, especially after a tumultuous couple of years. But that's how creativity works, right? It comes in ebbs and flows and can't be forced. Thank goodness it can be encouraged, though!
This is why I've shifted more into a lifestyle offering, sharing about how healing surfing has been for me, and the slower lifestyle it brings. Surfing has reinforced the belief that we don't need much to feel happy and whole!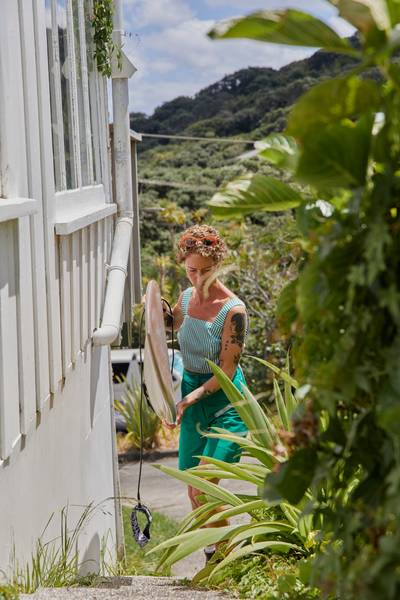 Do you make daily visits to the beach and consider it a part of your daily routine, given your close proximity and frequent beach-related posts?
The fantastic thing about living on the wild west coast of Piha, is that there are always waves. I surf most days, and if the swell is too big or windy, I'll go for a beach wander or swim instead. Despite having a reputation for big, dangerous waves, I've learned to surf here and feel more comfortable in the water than anywhere else!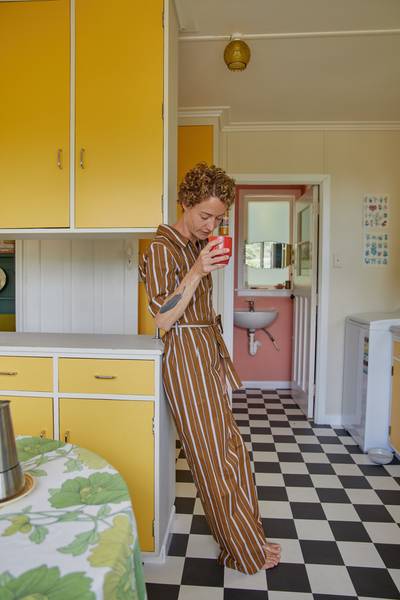 Can you talk about a specific daily ritual or practice that you find particularly grounding or energizing?
It's not ground-breaking or earth-shattering, but my morning coffee is my favourite time of day. I often look forward to it the night before! Once the kids are off to school, I'll tidy the house, light a candle and then pop my stove top percolator on to do its thing. Once ready, the spluttering and bubbling noise is like music to my ears. I'll sit in my usual spot by the kitchen table and drink my coffee before getting stuck into work for the day. I don't think I'll ever tire of this simple ritual!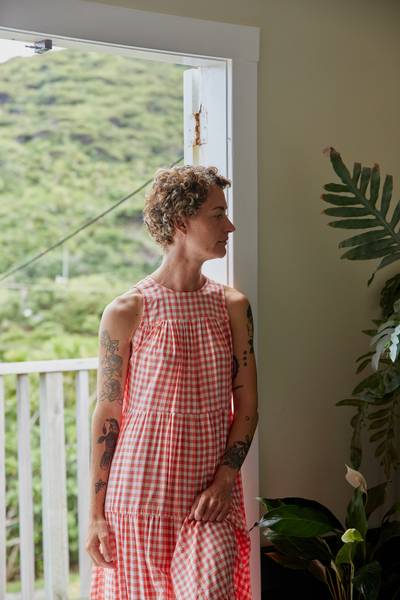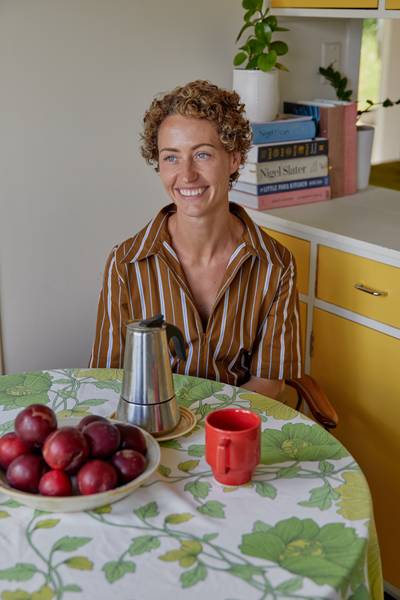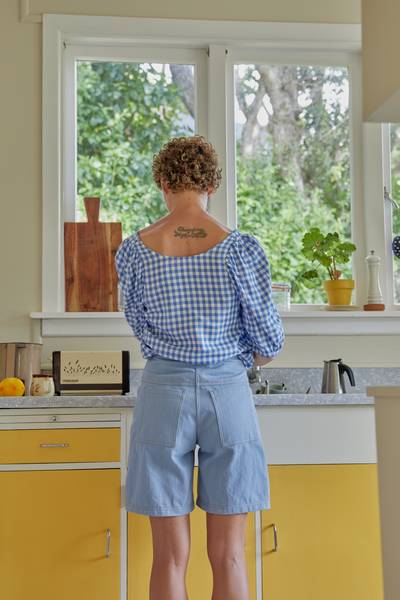 How would you describe your personal style and how has this evolved over the years?
Living at the beach has relaxed my style significantly. I'm known to wear lots of colour which makes me happy! I've never been a 'black and white' kind of girl. I mostly choose natural fibres and feminine pieces that have plenty of movement. Soft cotton or silk blouses paired with vintage worn jeans, wide-leg pants with delicate singlets, pretty sandals or bare feet. It's an easy kind of style, yet a playful one.
When I'm looking to add something new to my wardrobe, I always consider what pieces I currently own and ensure that I have at least 2-3 items that I'll be able to mix and match. I never have more than 15-20 pieces at any one time. Having only what I need brings me lots of joy. I'll usually wear a piece over and over again until it's literally falling to pieces! It's this philosophy that has drawn me to Mina, and the timeless pieces made with love and designed to last.
And lastly, what will you be focusing on in 2023?
I'm quietly working away on a (surf-related) project which is making me feel energized and excited about releasing something new to the world! I'm also looking forward to fixing up the outside of my house, and creating some lovely gardens and additional accommodation on the property.