Amber and Babette on style, family heirlooms and a mother's influence
Photographer Samantha Totty captures shared moments between Amber and Babette on film in celebration of Mother's Day and the bond we share with the mothers in our own lives.
We spoke to the mother-daughter duo about individual style, a mother's influence and the qualities they most admire in one another.
How would you describe your individual styles?
AMBER: I love clothes that feel easy to be in, elevate my mood with their elegance & form and make my inner being come alive. Wearing silks, linens & natural fibers that are soft and comfortable & choosing New Zealand made, conscious pieces that are beautiful and sustainable is important to me.
BABETTE: I love wearing colour especially in summer & I'd say my style is a mix of bohemian and elegant simplicity. In summer I wear loose pants with my favourite Indian silks and cotton tops. In winter I like wearing woolen pants with a long soft jacket or cardigan. For fun & dancing I love to have a pair of velvet leggings.
Would you describe your mother as having had an influence on your style? If so, how?
AMBER: I think Mum is an absolute beauty and carries herself elegantly & she always makes an effort with her appearance. This reminds me how lovely it is to bring one's beauty to the world every day.
BABETTE: My mother was a working mother of four (I have three brothers) and we lived in the country. Growing up whenever we went to town Mum would put on a dress, her powder and lipstick, and wear pearls. I always loved the transformation and I find myself having a similar version… wearing my comfies in the garden and for yoga and then enjoying getting dressed up to be in the world. I wear lipstick every day.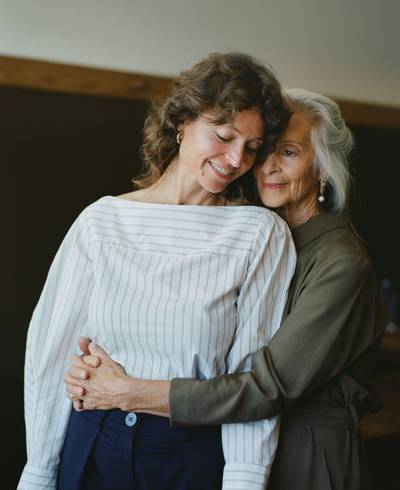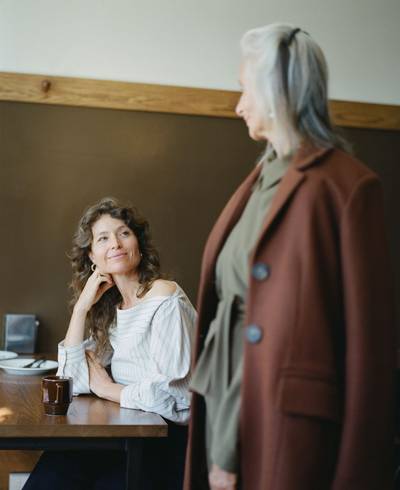 Are there any special heirloom pieces in your wardrobe passed down from your mother? Tell us about them.
AMBER: I have a beautiful scarf that I carry with me that Babette wore in the 90's. It's so soft and reminds me of her and that time in our lives - filled with family and friends. I also vividly remember and still love her 1980's Memsahib jumpsuit and Thornton Hall red rose off-the-shoulder dress.
BABETTE: I have kept the dress my mother wore to my wedding. I took her shopping in Wellington to my favourite shop (Memsahib) and chose the dress for her. It is full length in peacock green silk. It was not something she would ever have chosen and she loved it.
Any other treasured pieces in your wardrobe or jewellery box?
AMBER: I have my grandmother's opal (my birthstone) from a ring she wore that has a beautiful red fire in it.
BABETTE: I have some Amber beads that my Great Aunt Dulcie de Montalk gifted me when I was 21. I visited her in Wales where she was living in a 400 year old Edwardian House with her famous hypnotist husband.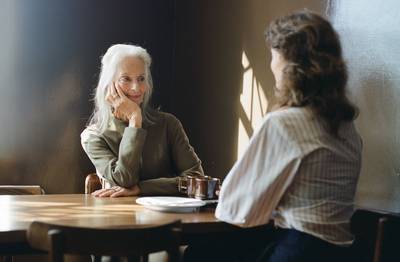 Day-to-day, how do you like to dress? What pieces form the foundation of your outfit?
AMBER: I enjoy feeling comfortable and able to move freely so wearing pants or a dress are usual foundation pieces and then I like to layer with a blazer or a jacket. I have a tendency to get cold so usually I'm wearing Nganata merino underneath and a couple of pairs of toasty socks in my boots!
BABETTE: I'm mostly in my garden clothes but when I go out, even to the supermarket I will change into something smart casual and put on my lip stick. Like my mother!
How do you accessorise?
AMBER: As I get older and have more of an understanding of caring for my skin I usually have a scarf and hat with me. I'm always on the lookout for great hats and caps - suggestions please!? I love rings & go through cycles of wearing necklaces and earrings. At the moment I'm enjoying adorning a few simple Charlotte Penman pieces that bring me joy and have an intention behind them.
BABETTE: I like to wear minimal accessories - usually my two favourite rings, earrings and in winter I wrap up in an array of gorgeous Indian woollen scarves, all in bright colours. I have a long dusky pink swing cashmere coat I bought 30 years ago from Jane Daniels which is still my favourite winter item. It's in perfect condition.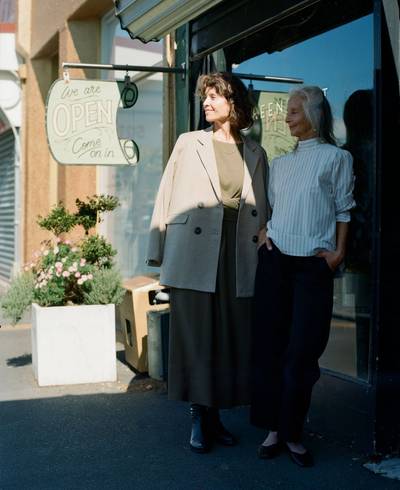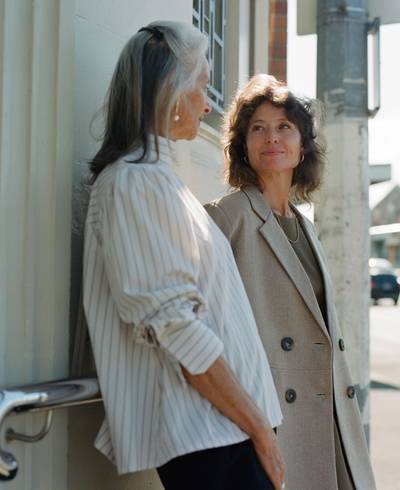 Living in separate cities, what do you like to do together when visiting one another?
AMBER: We always love going for big walks, chatting, seeing close friends and family and finding fresh local organic produce to feast on. There is a community orchard that Mum is actively involved in and I love gathering fresh plums in summer. Living in Matakana there is an array of fresh produce and roadside stalls and we have a fun time going to the markets and picking up delicious food.
BABETTE: I live in a coastal village by the sea near Wellington where Amber grew up. When she visits, we love to go for two beach walks a day, pick fresh greens from my garden, talk about books, the world, what we are learning, social issues in NZ, health and wellbeing, relationships and more!
Do you have any rituals you do together?
AMBER: Mum and I love beach walking, stretching, making salads, catching up on news & pulling tarot or oracle cards. I've been reading cards for over twenty years and always love to have friends and family pick a card when they visit.
BABETTE: Amber always asks me to make a coleslaw and a salad dressing! We make fresh juices and spend a lot of time catching up and chatting.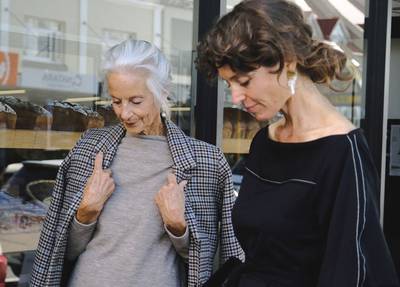 How would you describe your relationship? How has this changed over the years?
AMBER: Mum and I have had our challenges and heart aches and through it all we have grown and developed. She is someone who listens carefully and is unconditional in her love. Over the years I think we've cultivated more of an understanding of each other and how to support one another. I'm an empathic sensitive being that feels a lot and Mum is amazing at letting me process with her, have a cry, gather my strength and share what I need to. I message Mum every day and she's been there for me through some difficult health issues and life experiences.
BABETTE: Our relationship has been one of constant learning, maturing and understanding. I've learnt so much from Amber, about how to communicate and to listen without offering advice. It's been helpful doing life training courses together which has given us a shared tool kit and deepened our skills at positive communication.
What do you admire most about one another?
AMBER: I think Babette is one of the kindest souls I have encountered. I love that Mum continues to grow and learn as a human and spiritual being. She practices yoga, loves pranayama, eats from her incredible garden, swims in the ocean, reads a lot, looks after her friends and grandchildren and has a lot of gratitude for what she has. She takes good care of health & wellbeing and she finds joy and beauty in the small things and never complains. I want everything for Mum because she has given so much. I love when I visit there are always fresh flowers in the house that she has picked from her garden. I look forward to walking into my room and seeing what beautiful arrangement she has an offering.
BABETTE: I admire Amber's wisdom, strength and generosity of spirit to all. She's a very loving sister and aunty to her niece and nephew.
Shop Amber and Babette's looks