Photographer and friend, Katherine Brook on inspiration and the meaning of home
We asked our friend, photographer Katherine Brook, to capture Mina One.3/4 in and around her home in the small coastal community of Langholm during lockdown. What emerged is an intimate series of portraits that evoke the spirit of the collection and invite us to imagine ourselves in the scene.
We spoke to Katherine about what inspires her and how the series emerged, and asked what home means to her.
Where is home? Tell us about the surrounding area.
My home is in Laingholm on a hill among beautiful native bush with a view of dancing poplar trees in the distance. There is always something to observe and learn from nature. Sometimes I look at the trees and admire their ability to face any weather with grace and acceptance. Also kereru are one of the most flirtatious birds in the hood during spring. You should hear them landing on branches drunk on love.
What does home mean to you?
Home is where you are being cared for. It might not always be a happy place but it is a safe space indeed. Home is where you can be your silly self and feel loved. Home is where your favourite books are waiting for your touch. Home is where your mum makes your favourite meal, strokes your hair with a warm palm and asks how you are doing (miss you, mum!). You can carry your home within your own presence anywhere you go. I have a few, you see.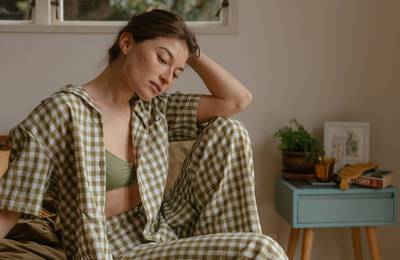 What inspired your photographs for Mina's One.3 collection?
I wanted to create imagery that people will feel connected to. Not everyone has a garden with lemon trees or a glasshouse but all of us are running errands at home and it is a big part of our lives. Especially during lockdown, having a routine and appreciating space where we create our little world has been crucial to stay sane and balanced. And of course the main inspiration came from the collection itself. It reminded me of summer time in Europe. I could see myself wearing the Kind Dress in Blue Stripe on the streets of Positano, or putting on the Elle Dress in Sweet Pea Gingham for a walk around lake Bled in Slovenia.
How was it working with your partner and communicating your vision for this series?
Since it was in the middle of lockdown and I was quite limited with sources, I had to model as well as take the photos. I photographed some pieces of One 3 and One 4 on my own, it wasn't very hard as I was using the same backdrop. But I also wanted to create non-staged imagery by using different corners of the house. So my partner kindly agreed to take photos for me. He loves photography and has a wonderful eye. It wasn't easy for me at first, since I wanted to be in control all the time. With Guy's patience, once I could let go of my ego, we could make things work.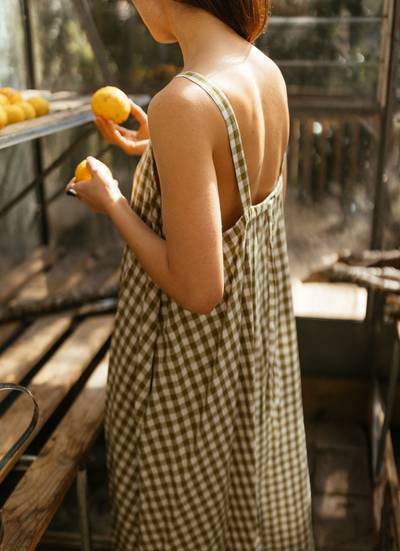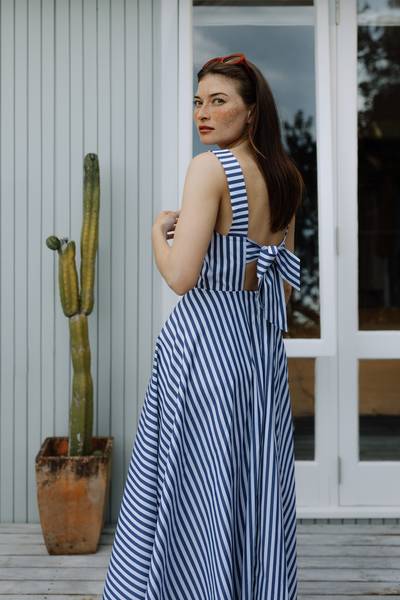 You are a great supporter of Mina - what is it about the brand that you most connect with?
I love the philosophy that Mina represents. Timeless designs and beautiful fabric along with the sustainable production really attracted me in the beginning. And I keep falling in love with the brand every time I see a new collection. Colours and silhouettes evoke some sort of nostalgia about old cinematography of the 50s and 60s. It inspires my vision as an artist.
As an artist, where do you find inspiration?
It can be anything that tickles my imagination or something I have a strong emotional response to. Cinematography, music, paintings, literature and most significantly people who are behind the art inspire me a lot. I love going to libraries or bookshops and getting lost in the photography and art section. Surrealism and post-impressionism are my favourite art movements. Salvador Dali, Leonora Carrington, Max Ernst's work would titillate my imagination whereas Van Gogh and Paul Cezanne would fill it with colours.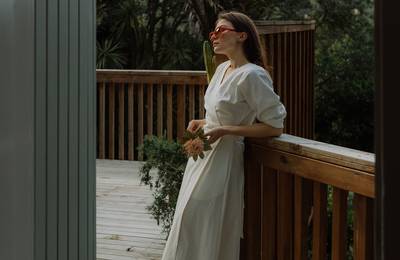 Tell us about your heritage. How has this shaped you as an artist?
I was born in the Far North of Russia and grew up in Siberia by lake Baikal. The republic where I am from is a melting pot of more than 130 nationalities. Different cultures and religions definitely influenced my ability to adapt and stay curious and open minded.
My upbringing has also taught me that people are the most valuable element in our life. Having a good friend might save you at very difficult times. Being kind to other people even when you are struggling will keep your heart safe. I also learnt that we as human beings are very complex creatures and one of our missions would be to accept our complexity, and deal with it. I deal with mine through photography and art. It is hard and possibly too early to say how I have been shaped as an artist. Because I am not there yet. I am still on a learning curve of my creative journey.
How has New Zealand influenced your work?
New Zealand has given me an opportunity to connect with myself on a deeper level than it was possible back in Russia. The amount of external stress and noise had never really given me enough head space for wandering thoughts. New Zealand is where I could actually listen to myself and find what I really wanted to do in life. It gave me freedom to appreciate my heritage as well as to find a way to do what I love without thinking about survival.