Our Fabrics
Our design process starts with natural fabrics, each selected for feel and longevity. 

Mina has a strong ethos around supporting the local industry in New Zealand as well as our environment. We strongly believe in using pure fabrics and ridding polyesters and other synthetic fibres from both our bodies and our planet. We strive to source fabrics that will give back to the earth as they biodegrade after the life of the garment. 
We believe in fabrics that not only age beautifully with time but are built to last. Some winter fabrics such as wool require 5 -10% of nylon or spandex for durability and practicality of the fabric. We try to use as low percentages as possible. We ensure the craftsmanship of the garment is made with attention and deliberate finishings. We design each piece and silhouette not to last a season but to last a life time. We source fabrics that are built to last and endure the seasons. 
It is then up to you to make sure the care and attention that has been given to make the garment is then given the same attention to the care of the garment during its life.

All Mina pieces are designed, pattern made and created in Auckland, New Zealand.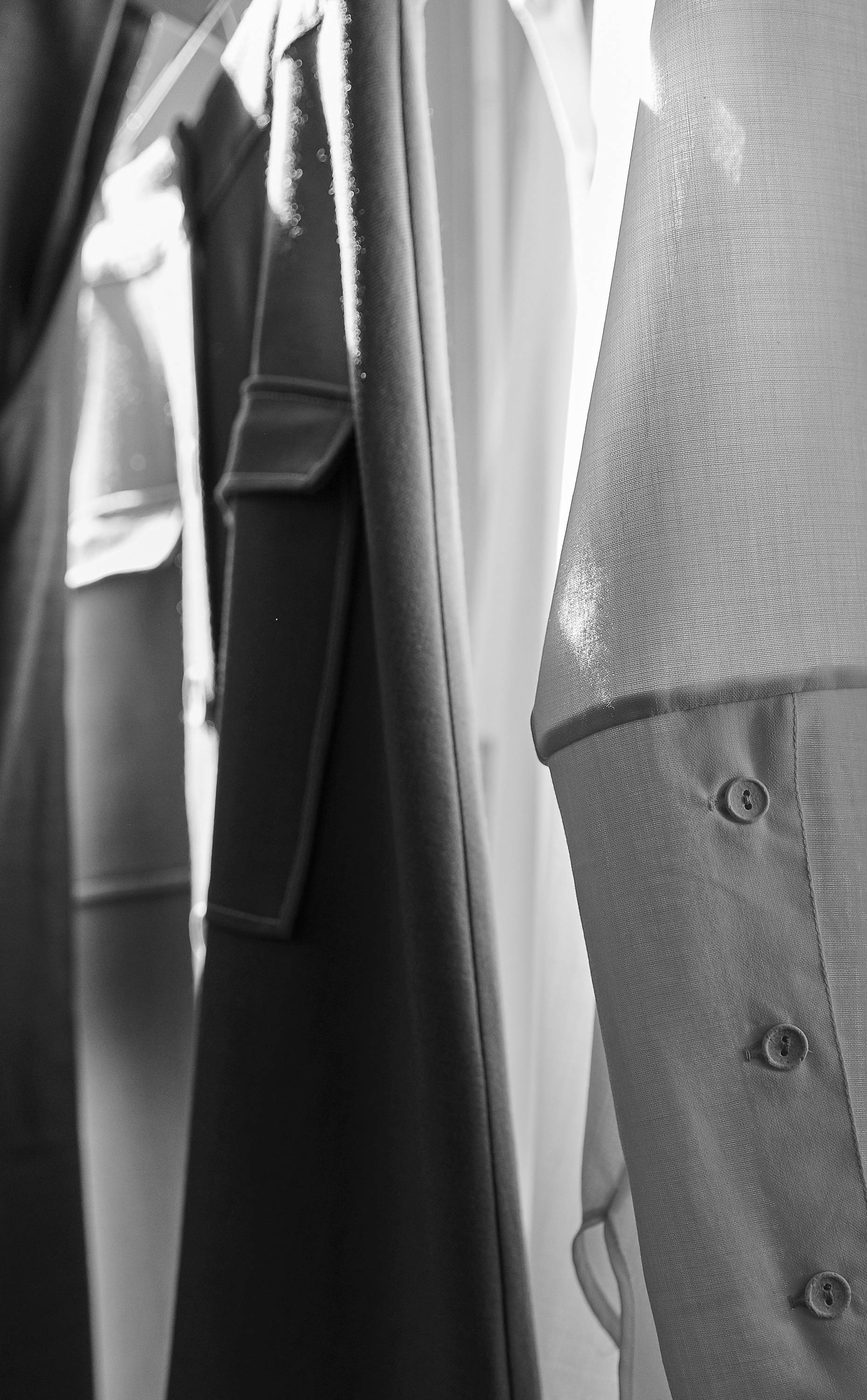 We source only natural fabrics from wholesalers here in Auckland. Being a small brand that doesn't produce hundreds of each garment we are lucky to be able to use fabrics the industry refers to as 'deadstock' - the hundred or so meters left over after an international fashion house may have over-ordered. Essentially, we do not have to use more of our planet's resources to produce fabric - we are able to use what has already been created.
Our Organic cotton is sourced from Sokta 100% BCI (Better Cotton Initiative) certified organic cotton Made in Turkey is a global not-for-profit organisation and the largest cotton sustainability programme in the world. BCI exists to make global cotton production better for the people who produce it, better for the environment it grows in and better for the sector's future.
Natural cotton is a renewable and sustainable resource. Naturally hypoallergenic and durable making cotton a versatile natural fibre. 
Cold hand wash with a gentle natural detergent. 
Cotton Twill 
A specific type of weave that results in a diagonal pattern. A very versatile and durable fabric that can withstand a lot of wear. With a high thread count, twill drapes well and doesn't crease easily. 

Cotton Denim 
Welcoming denim to Mina for AW20 our denim is sourced from Frost Textiles in Auckland Our denim is made from 100% Cotton, a hardwearing and timeless textile dense and tightly woven. 

Our silk is sourced from Sentosa Textiles here in AucklandA luxurious and strong natural fibre made by the silkworm. Non-synthetic and biodegradable. 
Cold delicate hand wash separately with a natural detergent.
A very strong timeless fibre made from the flax plant. The whole flax plant can be used when being processed, leaving no waste. 
Dry clean only. Spot clean using a natural detergent and lay flat to dry.  

Our New Zealand Merino is sourced from Wall Fabrics.  Gentle, versatile finely woven wool from the Merino sheep. This wool regulates your body temperature and is naturally antibacterial. 
Cold hand wash with a gentle natural detergent and lay flat to dry.
Renewable natural fibre source, fire-resistant free of chemical inputs. Naturally hypoallergenic and durable ensuring longevity. Our woolgrowers actively work to improve efficiency and care for natural resources, endeavouring to make the wool industry sustainable for future generations. 
Cold hand wash with a gentle natural detergent and lay flat to dry.
Our Tencel is sourced from Wall Fabrics Made from cellulose found in wood pulp, Tencel is produced from sustainably sourced wood using environmentally responsible processes such as recyclable, non-toxic solvents. Tencel breathes well, is naturally wrinkle-resistant and is 100% biodegradable. 
Cold hand wash with a gentle natural detergent. 

Rayon is made with cellulose from a variety of plants. It is durable and highly absorbent making it easy to dye. 
Cold hand wash with a natural detergent, gently rinse and lay flat to dry in the shade. 

A biodegradable plant-based fibre derived of wood pulp from fast-growing, regenerative trees. A more durable alternative to silk, viscose is lightweight, looks like silk and feels like cotton. It is breathable and maintains shape. 
Cold hand wash with a natural detergent, gently rinse and lay flat to dry in the shade.
Satin Viscose  

Satin is tightly woven with durable Viscose to create a high gloss, lustrous satin finish.