Rachel Mills
'Every piece has a story' is our way of giving you a little insight into the wonderful people who contribute to each of our garments. In a time where we can't see our suppliers as we usually would, we have taken the time to reach out to them and see how they are and how they are spending their time during lockdown. 

Meet Rachel Mills,
Designer and recent owner of 'The Pattern Table', a sample and production house for the NZ fashion industry
Rachel Mills has been in the industry 9 years now, beginning in Karen Walker's sampling team before starting her own eponymous label Rachel Mills and freelance pattern making. Now, Rachel continues to run her label whilst owning and managing The Pattern Table. 

I met Rachel a year or so ago now when Rachel, myself and Maeve from jewellery brand Hera Sabi did a pop-up shop together in Ponsonby. At that point, Rachel had not taken over the The Pattern Table and she always talked of creating her own in-house manufacturing house, a place where all Rachel Mills patterns and sampling is done in one place. Taking over The Pattern Table has allowed Rachel to do just that.  

Last season we noticed our workload getting too much for us so we turned to Rachel to take some of our sampling and pattern making off our hands. Often your pattern making and sampling are outsourced to different people so to have the pattern table to offer a start-to-finish service makes the process very clean and transparent.  

What do you love about what you do?
"I love the people I get to work with and the brands we work alongside. I get to meet some really inspiring people, who have drive like I have never seen in any other industry. I love the technicality of my role, and the other machinists and cutters in my team that we all get to bounce ideas off."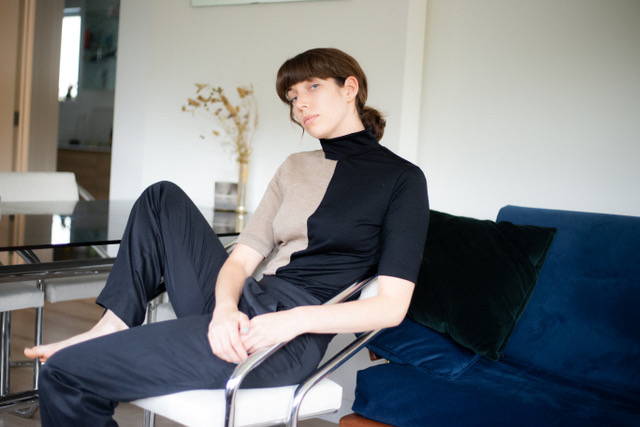 How long have you been in your industry?


"I have been in the industry since interning while I was studying, from 2011. I initially studied graphic design, because I wanted to challenge myself by taking on a skill I didn't already have. I only lasted a year with that, as I quickly realised how much I missed making clothing.
I had no real reason for getting into the fashion industry, other than the fact that making clothing is what I have always done. My mum is a sewing teacher, and my Gran was always making things, so it was a really easy thing to get into."

"To be completely honest, having this time away from the busyness of the workroom has felt extremely luxurious. I haven't spent it on too many leisurely tasks like cooking, and have more used it as a time to plan, prepare, and work on some things in my business that I otherwise wouldn't have had the chance to. 
Hand in hand with that, doing a lot of meals in conjunction with my partner's sister (who is in our bubble) and she has the desserts well covered. I've been focussing on making meals with lots of vegetables, to keep us all happy and healthy."

Do you have a saying or quote that you choose to live by? 

"Just a little something an incredibly smart woman told me when I first left secure employment; if you want something hard enough, 
you'll make it happen."
How are you keeping yourself calm and in positive 
mind frame right now?

Usually I'm on my feet running from one end of the workroom to the other all day, so working from our small home is a huge change.My partner Asher and I have set ourselves a goal of doing between 30 minutes and an hour exercise a day. We alternate between home workout routines (the Les Mills Attack classes are a favourite) and going for a run.

Designs patterned and sampled by Rachel at The Pattern Table